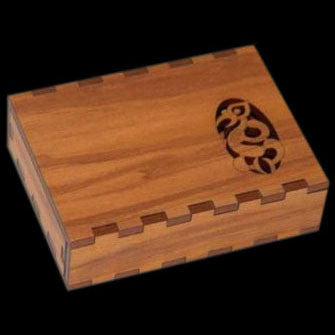 Manaia Gift Box
SKU
A wooden slider gift box with a Manaia engraving.
Size:
101mm x 77mm (4 Inches x 3 Inches)
Includes Free Postal Delivery Worldwide.  
The Wakahuia is a sacred vessel such as a canoe or anything designed to carry and protect sacred objects.
The Manaia is one of the more ancient mythical beings with a bird's head and a human form. It is said to be the messenger between the earthly world of mortals and the domain of the spirits. The Manaia is regarded as a kind deity protecting the people and helping them communicate with ancestors on the other side.
It is also a holder of great spiritual energy and is a guardian against evil.
Back To The Gallery
---
We Also Recommend
---