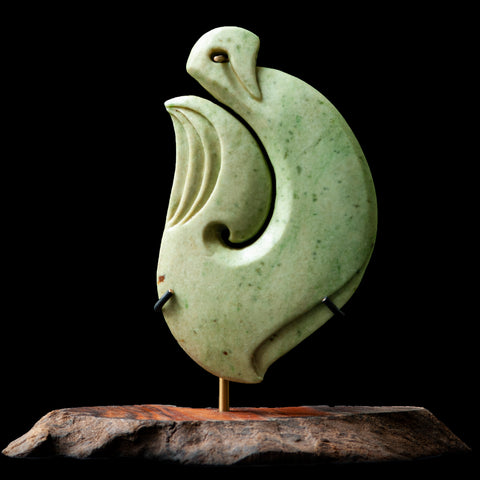 Pounamu Matau Sculpture by Alex Sands
SKU
A stunning large traditional one of a kind handcrafted Matau sculpture carved in Inanga Pounamu by Alex Sands. The piece includes a stand with a raw edge exposing the detailing of the wood.
Size:    
Jade Manaia Only = 105mm Long (4.13" Inches) x 67mm Wide (2.63" Inches)
On Stand = 130mm Long (5.11" Inches) x 147mm (5.78" Inches)
This is a very unique one-off collector's piece so it will be permanently removed from our gallery when sold.    
Includes Free Express Courier Delivery World Wide.  
The Maori people were great mariners and fishermen so the Matau is one of the most powerful symbols used in Maori culture representing prosperity, abundance and fertility. 
It also is said to provide good luck and safety when travelling over water.
The wearer of a Matau is seen as a provider and protector who is strong willed and determined to succeed in life.

Back To The Gallery
---
We Also Recommend
---