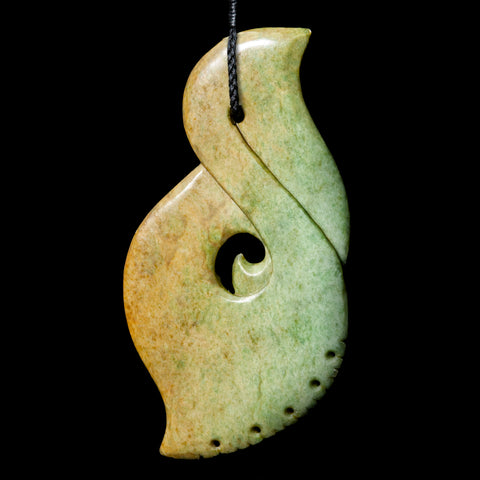 Huge Freeform Pounamu pendant
SKU
A stunning large contemporary one of a kind handcrafted freeform sculpture, resemblant of a Manaia (Guardian) carved in New Zealand flower jade by Alex Sands.
Size:    
115mm (4.5")
This is a very unique one off collectors piece so it will be permanently removed from our gallery when sold.    
Includes Free Express Courier Delivery World Wide.  
The Manaia is said to be the messenger between the earthly world of mortals and the domain of the spirits. It is also a holder of great spiritual energy and is a guardian against evil.     
The Manaia can be seen blended into many Maori designs such as the Matau (Hook) representing leadership and safety when traveling over water to depict its different powers and its interaction with the spirit or mortal worlds. 
Back To The Gallery
---
We Also Recommend
---