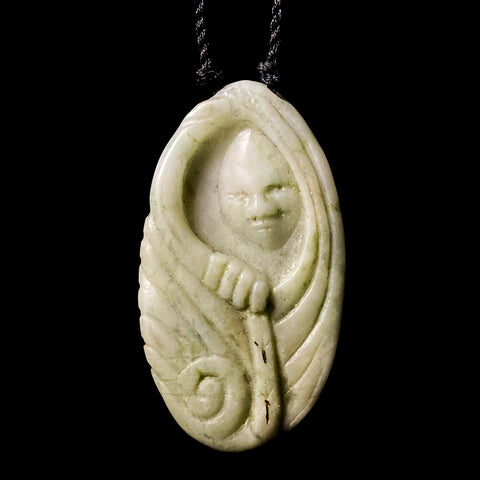 Grossularite Figure in Robe
SKU
A hand crafted Wheku (head) form pendant carved in Aotea jade. Here are some words from the artist about the type of stone, its meaning and symbolism within the Māori world; "A small figure is revealed from within a shroud.The Runes of Life and Death are etched on below. The back is patterned as fingertips might be. I often think of what the world was like for our ancestors. Stories told to me of how people of old were prepared to battle. I reflect on the courage it took them or perhaps the love that drove them to defend their people, their environment, their values. I remembered the greif of loosing loved ones and how that might compel someone to battle, the pain of gall stones or an ailment that left one "less than", The longing for death with honour The thought is so foreign to us in the context of our time, we seek the longest life and place importance on "things". Ora Mate imagines an ancestor who reminds us that we existed at the point of conception. When no other but God identified us. And we were that God and that God was us. Perhaps life is a process of working back towards that point." 
The piece Includes a waxed braid cord and carved bone toggle.
It also includes a presentation case and a detailed description of the meaning of the carving.
Size:
73 mm Long (2.87 Inches)
Includes free shipping worldwide.   
This piece also comes with a presentation box, depicted in the second picture.
This is a one of a kind piece so will be removed from our gallery permanently when sold.    
Back To The Gallery
---
We Also Recommend
---