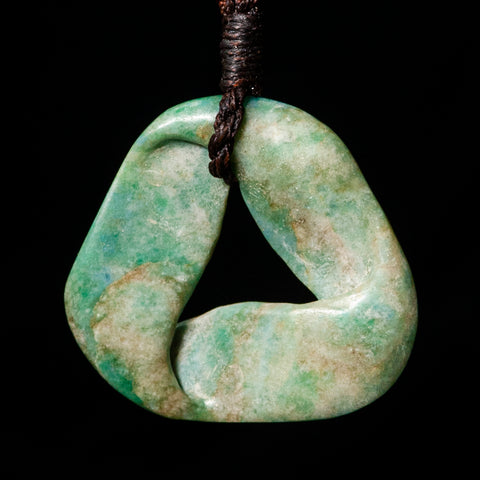 Aotea Squashed Mobius form pendant
SKU
A hand crafted Disc form pendant carved in Aotea jade. Here are some words from the artist about the type of stone, its meaning and symbolism within the Māori world; Aotea is an exceptionally vibrant stone that can show colours of Blue, green,white and black.
A story I remember about Aotea is that it was the Gift Rūaumoko gave to Rangi (Sky), Papa (Earth) and Tangaroa (Ocean). The intention of this gift was to bring peace to this unsettled world. Aotea is only found in New Zealand and is prized by the people of Kāti Mahaki/ Makaawhio.

The paradox of a hard stone folding into soft curves, like a ribbon, twisted to my will, as if squashed between my fingers. If I could give you the world I would. Countless hours have been spent, invested in this token of deep consideration and discernment, simply to say how special you are. 
It also includes a presentation case and a detailed description of the meaning of the carving.

Size:
45mm x 45 mm Long (1.8 x 1.8 Inches)
Includes free shipping worldwide.   
This piece also comes with a presentation box, depicted in the second picture.
This is a one of a kind piece so will be removed from our gallery permanently when sold.    
A Wheku is a carved wooden figure that represents an ancestral spirit in Māori culture. It is typically placed at the apex of the gable on the front of a meeting house, symbolizing the guardianship and protection of the ancestors over the people inside.

Back To The Gallery
---
We Also Recommend
---