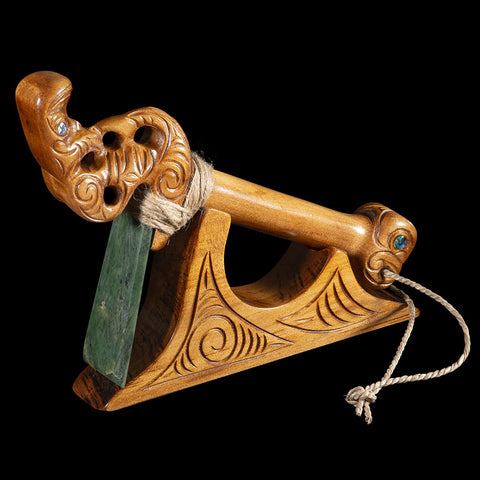 Toki Poutangata
SKU
A stunning traditional Maori style Toki Poutangata with a bound jade blade and carved wooden handle.
It sits gently on a carved wooden base.

Size:
It is 350mm long (14 inches) and 200mm Tall (8 Inches)
Includes Free Shipping Worldwide.  

Includes Free International Express Courier Delivery World Wide.   

The Toki Poutangata is a ceremonial adze used to make the first cuts when carving a sacred sculpture for a meeting house or felling a great tree used to carve a special Waka or great canoe.
It is a symbol of authority and leadership within the tribe so was only carried by the chiefs and other very important members of a tribe so they became very sacred Taonga as they were passed down the generations.
Back To The Gallery
---
We Also Recommend
---