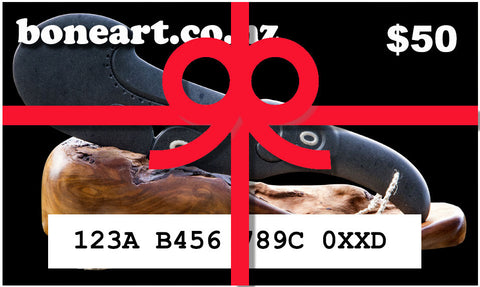 BoneArt E-Gift Cards $25 to $500
SKU
Select the gift card value you want in the dropdown box above


How Do Bone Art Place E-Gift Cards Work?
Looking for that perfect gift, but not sure what to give them?
Give them the gift of choice with a Bone Art Place e-gift card.
E-Gift Cards are delivered to you by email and contain instructions on how to redeem them at checkout.
You can also print them so they are easy to pop in an envelope or you can even keep one or two aside just in case for those "emergency" gifts.
You can even forward the email directly onto your far off friend or family member for the ultimate in hassle free giving.

- Instant delivery, as soon as you confirm your order they are emailed to you straight away.
- Just like cash, they can be used for anything at The Bone Art Place
- They never expire.
- There are no additional fees for using them.
- They can be used for any purchase from our gallery including specials.
- They can be used over several orders up to their total balance.
- Several Bone Art Place gift cards can be used together on one order.
- They can be used alongside any other special discount offers or vouchers.
- You can check your remaining gift card balance at any time online
- Delivered to you by email so super fast, no shipping costs and they never get lost in the post.
Don't see the gift card value you want here, no problem, just contact us with the details and we will add it for you.

Notes:
- The gift card email is automatically sent to your email address so you can print it and/or email it on to the recipient with your own special message etc.
- These are e-gift cards, not plastic cards so they are easy to simply email to those far off friends and family.
Back To The Gallery
---
We Also Recommend
---